lacuna
Lacuna is a creative projects consultancy led by Director Stella Ioannou, specialising in the development and production of cultural projects. Lacuna's unique expertise includes artistic programming; curation; creative and strategic project management; fundraising; developing and maintaining stakeholder relationships and managing teams.
Lacuna's strength lies in the ability to respond to a particular brief with a creative and ambitious programme, yet one that is achievable through strict project, budget and stakeholder management. Lacuna's reputation in the creative community as well as with the City of London corporation and local businesses has been established over the past decade through the successful delivery of Sculpture in the City and other large scale projects. These projects have succeeded in shining a welcome and positive spotlight on public spaces through a series of interventions which have excited, surprised and attracted audiences from afar as well as engaging the local communities.
Lacuna was selected for the London Borough of Culture expert panel, which provides specialist strategic advice to applicants. A long-standing relationship with the City's arts community and experience delivering the first two editions of Sculpture in the City also informed Celebrate the City (2012), the Square Mile's celebratory programme for the 2012 London Olympics for which Stella was Project Director.
Alongside the core Sculpture in the City eighth edition, in 2018, Lacuna also delivered a brand new programme Musicity x Sculpture in the City that allows visitors to experience architecture-inspired music and sound art in the very place that sparked its creation. These tracks are available 24/7 simply by using headphones and connecting a handheld device to the Musicity webapp.
Since 2017 Lacuna has consulted on the City of London's Eastern City Cluster Area Strategy, an ambitious long term project devised to ensure the future of the area as a world class destination for businesses, workers and visitors. Lacuna's involvement started with the production of a 'Culture and Art Strategy for the Eastern City Cluster' and, after advising on the consultation process, also developed a multi-year arts and culture programme 'Experience the City' encompassing a broad range of events and activities from art and architecture to archaeology, music, food and gardening, all designed to contribute to the long term success of the area highlighting the unique and dynamic history of the area and its people.
Lacuna's portfolio includes other notable projects such as the London Festival of Architecture for which Stella was Founding Deputy Director (2003-07) and for the international events agency Profirst (2007-09). Some of the highlights at Profirst include managing the accounts of leading brands including Armani, Chanel, Credit Suisse and, notably, Swarovski for their 2008 Crystal Palace in Milan following Swarovski's invitation to world leading designers to conceive an atmosphere experimenting with the unique medium of crystal. Through these high profile, complex projects, Stella specialised in what she calls the 'art of the impossible', where she honed her abilities in extreme budget and client management.
Meet the Lacuna Team
Stella Ioannou – Director
My background as a trained architect and dancer has informed my process and ability to develop ideas into reality. My expertise includes curation, artistic programming, creative and strategic project management, fundraising, developing and maintaining stakeholder relationships as well as managing teams. I am a member of the City Arts Initiative Advisory Board; a liveryman member of the Worshipful Company of Chartered Architects and a member of City Architecture Forum. My long-standing relationship with the City's arts community has informed my roles as Co-Director of Sculpture in the City, Project Director of Celebrate the City and Deputy Director of the London Festival of Architecture. These roles, along with Client Director at international events agency Profirst, have taught me extreme budget and client management skills and the 'art of the impossible'.
For Stella the word 'impossible' simply doesn't exist. Whatever she is trying to achieve she always succeeds due to her charm, tenacity, power to persuade and unfailing good humour. This makes her not only a great pleasure to work with but also engenders the greatest assurance that all will be well – and the end result will be the best. Which it invariably is.
Sarah Gaventa, The Illuminated River Foundation           
Nicola Clarke – PA to Stella Ioannou
Nicola has over ten years experience as a PA in various industries including finance, education and media. She has lived and worked aboard in multiple cities including Los Angeles and Tallinn. Now back in London, she is excited about working in the arts industry and supporting Stella and Lacuna on the road ahead! Nicola has a BA in Art History and a post graduate degree in Theatre.
Maria Marro-Perera – Project Consultant
Maria completed her post-graduate degree in History of Art at the Courtauld in 2008. She has a wealth of experience as an independent arts professional consulting with galleries, art dealers, arts organisations, artists and collectors. Maria has worked with a number of international galleries as a sales and marketing representative at art fairs worldwide. Her skill is in establishing partnerships, developing business and building art collections. All of Maria's work is reliant on top networking skills to create and keep contacts across the art world. Much of this she does online, but also face to face, as nothing beats a good conversation over a cup of coffee.
Katrina Man – Project Assistant
Katrina has a background in History of Art, having studied for her BA at University College London and completed a History of Art (Modern and Contemporary Art) MA at the University of York. Over the past few years, she has been gaining a range of art world experience, through commercial art gallery and public museum work, as well as self-organised exhibitions and art projects. In her research and her work, Katrina has been specialising in contemporary art and strives to make more art more accessible to a wider public throughout her career, as well as supporting emerging contemporary artists.
How We Work
In my experience, there is no right or wrong way in how projects come together, and no 'method' that guarantees a result. The one thing I have learnt over the years is that people and the relationships built with them are the beginning of what may be possible. Consultation and relationship building are at the core of how I work and it is this process that both informs and allows a project to develop organically. I strongly believe that creative projects have their own energy and that you need to feed and challenge them to allow them to grow.

Securing the financial means to deliver what you set out to do is an essential part of any project but just as important is to consider the context of the project and making it sustainable. I often describe this type of project management as a big melting pot where I ensure we have the right mix of ingredients and I am the chef who keeps stirring the pot…

Over the years I have had the privilege of working on a wide range of ambitious projects and I have built a solid expertise which ensures that not much fazes me; there is always a solution!

I often say it's the constraints that define the project just as much as our ambition to push the boundaries. All the practical things, like the weight and durability of the work, become very much part of the process. How the context changes with the seasons is an interesting one, too – everything looks so different in the snow, or with a backdrop of trees shedding their leaves.
Stella Ioannou, Director Lacuna
Videos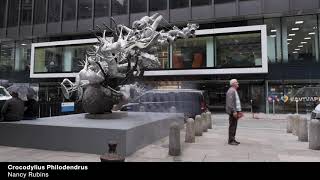 Sculpture in the City - Ninth Edition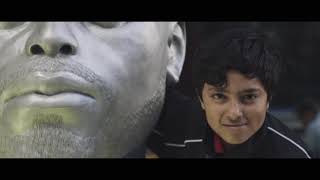 Sculpture in the City - Eighth Edition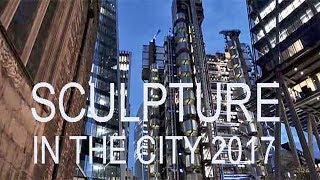 Sculpture in the City - Seventh Edition
Sculpture in the City - Ninth Edition

Every summer, the City of London, in partnership with local businesses, unveils a brand-new selection of artworks by internationally-acclaimed and emerging artists. Set amongst the iconic architecture of the City's insurance district, the sculptures animate public spaces and engage visitors and passers-by alike. Featured artists in this year's edition: Clare Jarrett | Do Ho Suh | Graeme Miller | Guillaume Vandame | Jennifer Steinkamp | Jonathan Trayte | Juliana Cerqueira Leite | Jyll Bradley | Kevin Francis Gray Studio | Lawrence Weiner | Leo Fitzmaurice | Marisa Ferreira | Michael Lyons | Nancy Rubins | Nathan Coley | Nina Saunders | Patrick Tuttofuoco | Reza Aramesh | Salvatore Arancio | Shaun C Badham Find out more at www.sculptureinthecity.org.uk Sculpture in the City is supported by Aon, Aviva, Bloomberg, Beaumont, British Land, Brookfield, CC Land, Hiscox, London & Oriental, Nuveen Real Estate, Tenacity, Tower 42, Twenty-Two.

Sculpture in the City - Eighth Edition

The annual urban sculpture park returns to the Square Mile with its eighth edition. See this year's contemporary art installations in 19 locations, surrounded by iconic architecture of the City of London's insurance district. Participating artists are: Marina Abramović, Shaun C. Badham, Miroslaw Balka, Jyll Bradley, Tracey Emin CBE RA, Clare Jarrett, Juliana Cerqueira Leite, Gabriel Lester, Sarah Lucas, Amanda Lwin, Jean-Luc Moulène, Michail Pirgelis, Thomas J Price, Richard Rome, Nancy Rubins, Sean Scully RA, Karen Tang, Sculpture in the City is presented as part of the City of London's Cultural Strategy, delivered in partnership with City businesses and wider arts community. Project Partners: Aon, Aviva, Blackstone, Bloomberg, British Land, Brookfield Properties, CC Land, City of London, Generali Real Estate, Hiscox, TH Real Estate, Tower 42, Twentytwo, Women: Work and Power Project Patrons: Ascend Studio, Illuminated River, JSRE 30 St Mary Axe Ltd, Leadenhall Market, Make, MTEC, PLP/Architecture, Price & Myers

Sculpture in the City - Seventh Edition

seventh edition. See this year's contemporary art installations in 18 locations, surrounded by iconic architecture of the City of London's insurance district
Selected Press
Join our Mailing List